Astrological Relevance and Rituals of Ramayana Month
admin
-
August 6, 2019
26
0 COMMENTS
The Month Karkkidakam – the last month in the traditional Malayalam Calendar Kollavarsham or Kollam Era, is often referred as Ramayana Month. It is a period of great Astrological, Geographical, Social and Cultural significance for the people of Kerala who spend this time, observing various traditional practices. Reciting Ramayana at temples and homes is one of those observances in Karkkidakam which gives the name Ramayana Masam.
Important Timings On Ramayana Month
| | |
| --- | --- |
| Sunrise | July 17, 2019 5:54 AM |
| Sunset | July 17, 2019 7:11 PM |
| Karkidakam Start | 17 July, 2019 |
| Karkidakam End | 16 August, 2019 |
| Amavasya Tithi Start | July 31, 2019 11:57 AM |
| Amavasya Tithi End | August 01, 2019 8:41 AM |
Astrological Significance
In Sanskrit the word Karkkidaka means cancer and it is the period when the Sun transits through Karka Raasi (Cancer Zodiac).  Karkkidaka Samkranti/Karka Sankranti which marks the transition of Sun into Karka Raasi, also marks the end of Utharayana (northern transit of Sun) and the beginning of Dakshinayana (southern transit of Sun). Dakshinayana will last for next 6 months till Makara Sankranti and the nights are longer during this period.
Recitation of Ramayana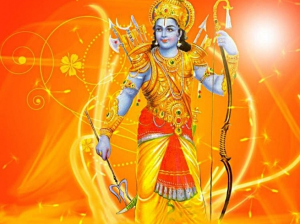 The tradition of reciting Ramayana during Karkkidakam is believed to be started in the 16th century. Adhyatma Ramayanam written by Thunjath Ramanujan Ezhuthachan is recited in the temples and homes during this period. The author Thunjath Ezhuthachan is called as the Father of Malayalam language, and his work Adhyatma Ramayanam is a lucid version of Ramayana which became popular among the Malayali community.
The purpose of reading the legend of Lord Ram is to attain a spiritual enrichment and to find comfort in the agonies inflicted by month Karikkidakom. A spiritual solace can be attained through regular and devoted reading of Ramayana during the 31 days of Karkkidakam. The story of Ram is not only significant for its spiritual element, but it preaches the right conduct and the duties of an individual towards the society, parents, siblings, husband, wife etc. A devoted reading of this epic can help purify the minds.
Nalambalam Darsanam 
Nalambalam Darsanam/Yatra is an annual pilgrimage held in this period to four famous temples in the central Kerala region. It involves offering prayers at Triprayar Sree Rama Temple, Irinjalakuda Koodalmanikyam Temple, Moozhikkulam Lakshmana Temple and Payammal Shathrughna Temple, which are dedicated to Lord Rama, Bharatha, Lakshmana and Shathrughna respectively. This practice originated centuries ago when completing this task in one day was an ardent task. Today, as these temples are well connected by roads, this pilgrimage is gaining more popularity.
Aanayoottu/Sukha Chikitsa for elephants
It is a part of the rejuvenation treatment given to the elephants in the month of Karkkidakam. Elephants form an important part of Kerala temple customs and tradition. Special massages, food and Ayurvedic medicines are given to the elephants to rejuvenate their health. In Guruvayoor Sree Krishna Temple, Aanayoottu or feeding of elephants is a great event of tourist importance where more than 60 elephants are given special treatments, diets and tonics.
Lakshmi Pooja/Sheepothi Orukkal
This includes a set of practices to welcome Lakshmi Devi – the Goddess of prosperity. On the last day of Mithunam (the month before Karkkidakam), people clean the interior and exterior of houses, destroy the damaged utensils, pots, brooms etc and  cleanse the house by sprinkling dung water. This practice is conducted to expel Chetta or Alakshmi or Ashree from the homes. After this, Lekshmiku Vaykkal or Sheepothi Orukkal is conducted by arranging auspicious things, including Ashtamangalyam and Dasapushpams in front of Nilavilakku. Also, some special poojas are conducted in the temples.
Karkkidaka Kanji
Bad weather and diseases are some of the salient features of the month Karkkidakam. In order to resist these adverse conditions and to improve the immunity, people stick onto some special diets during this month. Also, as agricultural activities come to a halt, farmers follow some Ayurvedic practices to rejuvenate their health. Karkkidaka Kanji is a porridge type preparation had by all people, including children during this month. It is a traditional Ayurvedic blend which has the power to purify the body and improve immunity.
admin
RELATED ARTICLES